Wir alle kennen die D22 in der elektrischen Version, welche dann auf den Namen D22el oder D222 hört. Die elektrische Variante der D22 wurde bereits 1987 und somit vor der Witabs-Variante (1989) eingeführt.
------------------------------------
We all know the D22 in the electric version, which is then called D22el or D222. The electric variant of the D22 was introduced in 1987, before the Witabs variant (1989).
Vielfach nicht bekannt ist jedoch, dass es anfangs ein paar D222 gegeben hat, bei denen das Kesselhaus nicht schwarz lackiert gewesen ist. Bei diesen Maschinen kam dann das originale Kesselhaus der D202 zu Einsatz.
------------------------------------
What is often not known, however, is that there were initially a few D222s whose boiler house was not painted black. The original boiler house of the D202 was used on these machines.
Mein Sammlerfreund Frank G. hatte sogar das Glück eine frühe D222 in neuwertigem Zustand und mit dem Originalkarton zu bekommen. Anfangs gab es offenbar noch keinen speziellen D222-Karton und so wurden die Maschinen in D20-Kartons mit entsprechendem Aufkleber ausgeliefert.
------------------------------------
My collector friend Frank G. was even lucky enough to get an early D222 in mint condition and with the original box. Initially there was apparently no special D222 box and so the machines were delivered in D20 boxes with the corresponding sticker.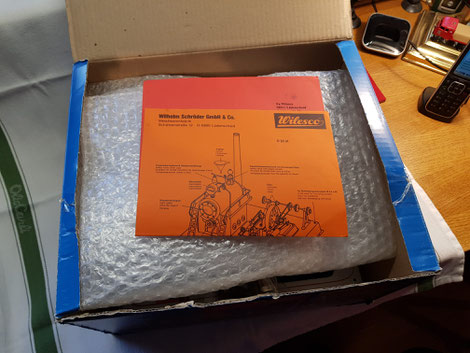 Auf der damaligen Bedienungsanleitung sieht man dann auch noch eine D222 mit alter Dampfpfeife. Im Katalog wurde die D22/222 immer nur mit der neuen Pfeife mit Kettenzug abgebildet.
-----------------------------
In the operating instructions at the time you can also see a D222 with an old steam whistle. In the catalog the D22/222 was only ever shown with the new whistle with chain hoist.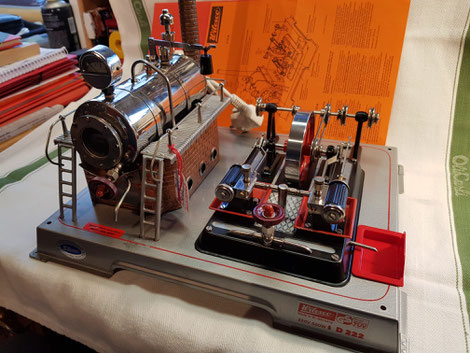 Wie gesagt präsentiert sich Frank's D222 in neuwertigem Zustand. Eigentlich schade, dass diese Maschine offenbar noch nie laufen durfte (grins!).
------------------------
As mentioned, Frank's D222 is in mint condition. It's actually a shame that this machine has apparently never been allowed to run (smile!).
@ Frank: Danke für die Bilder!
@ Frank: Thanks for the pictures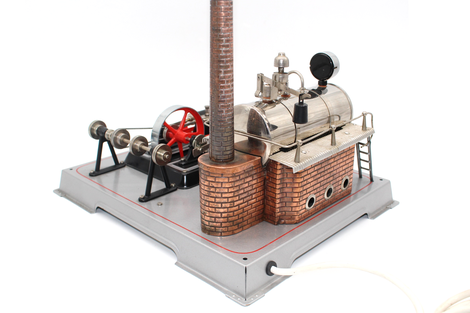 Ich muss zugeben, dass meine hier gezeigte D222 "nur" ein Umbau einer ursprünglich schwarzen D222 ist. Aber da ich eine zeitlich passende D222 (Handräder, Lack, ...) bekommen habe, konnte ich natürlich nicht widerstehen.
------------------------
I have to admit that my D222 shown here is "just" a conversion of an originally black D222. But since I got a D222 that matched the time (handwheels, paint, ...), of course I couldn't resist.