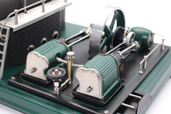 Ein weiterer Dampffreund bat mich, seine D20 umzubauen.
Another steam buddy asked me to rebuild his D20.
Mein Dampffreund Bernd war ganz begeistert von der 2-Zylinder, die ich für Dirk gebaut hatte. Und so kam es, wie es kommen musste: ich habe ihm auch eine D20 umgebaut.
------------------------------------
My steam buddy Bernd was very enthusiastic about the 2-cylinder that I had built for Dirk. And so it happened as it had to happen: I also converted a D20 for him.
Da das alte Schätzchen aber schon einige Gebrauchsspuren hatte, wurde es dieses Mal eine Komplett-Überholung. Hierfür hat Bernd sich die Farbgebung der D161 gewünscht. Zusätzlich habe ich gemäß Wunsch noch einen Generator und Polklemmen verbaut.
------------------------------------
Since the old darling already had some signs of wear, it was given a complete overhaul this time. For this, Bernd wanted the coloring of the D161. In addition, I installed a generator and pole terminals as requested.