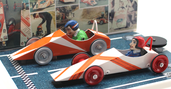 Das wohl persönlichste Modell, das ich bislang gebaut habe.
Probably the most personal model I have built so far.
Mein Bruder und ich hatten als Kinder die Möglichkeit aktiv Seifenkistenrennen zu fahren. Eigentlich ging es damals darum, dass Kinder in selbstgebauten "Autos" den Berg runterrollten und dabei die Zeit gemessen wurde. Wir haben unsere Kisten jedoch nicht selber gebaut. Unser Vater war handwerklich und konstruktiv sehr geschickt und hat uns zwei Rennwagen gebaut, die dann auch deutlich schneller waren als alles Andere. So sind wir dann von Sieg zu Sieg gefahren. 
------------------------------------
My brother and I had the opportunity to actively drive soap box races as children. At that time it was actually about children rolling down the mountain in self-made "cars" and the time being measured. However, we did not build our boxes ourselves. Our father was very skilled in terms of craftsmanship and design and built us two racing cars, which were significantly faster than everything else. That's how we went from victory to victory.
Unsere Seifenkisten hatten damals auch Namen: meine hieß "Hacky" und mein Bruder hat seine Zebra genannt. Hacky war der Name eines Mega-Traktors beim Traktor-Pulling, den ich damals mal live sehen konnte.
------------------------------------
Back then, our soapboxes also had names: mine was called "Hacky" and my brother called his Zebra. Hacky was the name of a mega tractor in tractor pulling that I saw live back then.
Berg runter wurde natürlich gerollt. Bergauf wurden wir meistens mit Traktoren gezogen. Hier unsere beiden Renner und der Herr im hellen Shirt auf dem Anhänger ist mein Vater.
------------------------------------
Of course we rolled down the hill. We were mostly pulled uphill by tractors. Here are our two racers and the gentleman in the light shirt on the trailer is my father.
Eine weitere Gemeinsamkeit von meinem Bruder und mir ist das Thema Dampfmaschine. Okay, bei mir mittlerweile etwas exzessiv, aber auch mein Bruder hat eine Wilesco. Meine Eltern hatten mir damals die hier mehrfach erwähnte OldSmoky geschenkt und meinem Bruder eine D20. So wurde auch gemeinsam gedampft.
---------------------
Another thing my brother and I have in common is the steam engine. Okay, a bit excessive for me now, but my brother also has a Wilesco. My parents gave me the OldSmoky mentioned here several times and my brother a D20. So we steamed together.
Dieses Jahr wurde mein Bruder 50 und natürlich musste ein besonderes Geschenk her. Frei nach der Formel "gemeinsame Seifenkistenrenen + vorhandene D20 = Dampfmaschinen-Seifenkistenrennen" habe ich ihm ein entsprechendes Antriebsmodell gebaut.
------------------------------------
This year my brother turned 50 and of course a special present had to be found. Based on the formula "joint soap box races + existing D20 = steam engine soap box races" I built a corresponding drive model for him.
Das Modell zeigt Abbilder unserer Seifenkisten auf der Rennpiste und ein paar Impressionen von damals als Hintergrund.
------------------------------------
The model shows images of our soapboxes on the race track and a few impressions from back then as a background.
Die Grundplatte stammt von einer M56 und die Räder der Seifenkisten sind Schnurlaufrollen mit eingelegten Gummiringen. Die Figuren waren im ersten Leben mal Holzhacker. Somit getreu meinem Motto "so viel Wilesco wie möglich".
------------------------------------
The base plate comes from an M56 and the wheels of the soapbox are cord rollers with inserted rubber rings. The characters were lumberjacks in their first life. So true to my motto "as much Wilesco as possible".
Und so sieht dann ein Damp-betriebenes Seifenkistenrennen aus:
----------------------------
And this is what a steam-powered soapbox race looks like:
Wenn ich das so schreibe fällt mir auf, dass wir als Kinder echt Glück gehabt haben, so etwas erleben zu dürfen. Großer Dank dafür an meine Eltern!!!!!
---------------------------------------------
While writing this, it strikes me that we were really lucky as children to be able to experience something like this. Big thanks to my parents!!!!!
Übrigens sieht man in diesem Video bei 5:11 Hacky in Action
-------------------------------
By the way, in the following Video you can see Hacky in Action at 5:11