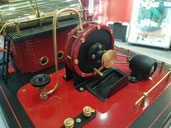 Auf der Spielwarenmesse in Nürnberg hat Wilesco eine neue Turbine gezeigt.
At the toy fair in Nuernberg Wilesco showed a new turbine.
Das Jahr 2023 wird für uns Wilesco-Sammler wieder einmal ein besonders interessantes Jahr. Es wird nach T90 und T125 eine neue Turbine geben.
------------------------------------
The year 2023 will once again be a particularly interesting year for us Wilesco collectors. There will be a new turbine after the T90 and T125.
Die Neue nennt sich T115 und kommt im selben Farb-Schema daher, wie die T125 - schwarz-rot-messing. Auf dem Prototypen war der Dynamo der M66 montiert. Farblich sehr passend, aber vielleicht lässt man sich da in Lüdenscheid noch eine wertiger anmutende Lösung einfallen.
------------------------------------
The new one is called the T115 and comes in the same color scheme as the T125 - black-red-brass. The M66 dynamo was mounted on the prototype. The color is very suitable, but maybe they can come up with a more valuable solution in Lüdenscheid.
Man hatte in Lüdenscheid wohl wieder über eine zugekaufte Turbine nachgedacht (wie auch bei der T125). Der Prototyp kommt nun aber mit einer Eigen-Konstruktion daher, welche von den Ausmaßen eher an die Turbine der T90 erinnert.
------------------------------------
In Lüdenscheid they had probably thought about buying a turbine again (as with the T125). The prototype now comes with an in-house construction, which is more reminiscent of the turbine of the T90 in terms of dimensions.
Der Prototyp der Turbine wieß noch einige Teile aus dem 3D-Drucker auf. Diese werden aber wohl bis zur Serie entsprechenden Metall-Bauteilen weichen.
------------------------------------
The prototype of the turbine still had some parts from the 3D printer. However, these will probably give way to the series corresponding metal components.
Interessanter Fakt nebenbei: das mittlere Bauteil des Turbinen-Gehäuses (Messing) ist das hintere Rad vom Dampftraktor D406.
------------------------------------
Interesting fact by the way: the middle component of the turbine housing (brass) is the rear wheel of the steam traction engine D406.
Bis die T115 beim Händler stehen wird ist noch einiges an Arbeit zu leisten. Das gibt uns aber die Möglichkeit solange Platz in den Regalen zu schaffen und das Sparschwein zu füllen. Es gibt zwar noch keine offizielle Ansage zum Preis der T115. Allerdings gehe ich davon aus, dass diese nicht günstiger sein wird, als die T125. Und diese hat zuletzt über 600€ gekostet und das ist schon ein paar Jahre her.
------------------------------------
There is still a lot of work to be done before the T115 will be available at dealers. But that gives us the opportunity to create space on the shelves and fill the piggy bank. There is still no official announcement about the price of the T115. However, I assume that this will not be cheaper than the T125. And this last cost over 600€ and that was a few years ago.