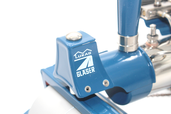 Ich habe eine von 79 gebauten Walzen für die Firma Lukas Gläser gefunden.
I found one of 79 built rollers for the Lukas glasses company.
Die Walze wurde 2001 in Auftrag von einem schwäbischen Bauunternehmen als Weihnachtsgeschenk für besondere Kunden gefertigt. In der hier gezeigten Form wurden 80 Stück von Wilesco ausgeliefert und dann in einem Studio für Grafikdesign mit dem Firmenlogo beschriftet (an beiden Seiten hinten und an der Front). Eine Walze blieb als "Danke Schön" für die gute Arbeit in dem Studio und wurde nicht beschriftet.
-------------------------------------------------------