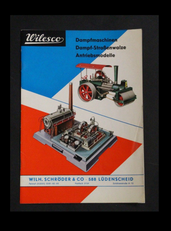 Ich habe es endlich geschafft, meine Katalog-Sammlung zu aktualisieren.
I finally managed to update my catalog collection.
Nachdem ich schon seit Längerem die Seite der Katalog-Sammlung nicht mehr aktualisiert hatte, habe ich das nun endlich geschafft. Nun sind alle Kataloge und Neuheiten-Blätter meiner Sammlung abgebildet. Mehr dazu hier.
----------------------------------------------
After not updating the catalog collection page for a long time, I've finally managed to do so. Now all the catalogs and novelty pages in my collection are shown. More about this here.