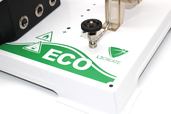 Unter Anderem gab es noch eine Lücke in meiner sammlung bei der T90 - bis heute.
Among other things, there was still a gap in my collection with the T90 - until today.
Wir Alle kennen die T90 und wissen genau, wie schwer eine solche zu finden ist. Aber wusstet ihr, dass es von der T90 sogar ein Sondermodell gab?
------------------------------------
We all know the T90 and how hard it is to find one. But did you know that there was even a special model of the T90?
Es gibt in Florida / USA eine Firma Namens LJ Create. Diese richtet Schul-Laboratorien ein und bietet auch sonst Einiges zum Thema Lernen an. Also passt eine dampf-Turbine offensichtlich sehr gut in das Konzept, sodaß LJ Create diese Sonderausführung der T90 bauen ließ.
------------------------------------
There is a company called LJ Create in Florida / USA. This sets up school laboratories and also offers other things related to learning. So a steam turbine obviously fits the concept very well, so LJ Create ordered this special version of the T90.
Es war jedoch nicht einfach nur eine anders lackierte T90. An dieser Maschine findet man z.B. ein Kesselhaus in Glattblech. Das hat es zwar mal bei der D6 gegeben, aber sonst nirgends.
------------------------------------
However, it wasn't just a different livery T90. On this machine you will find, for example, a boiler house made of smooth sheet metal. It did happen with the D6, but nowhere else.
Diese ganz besondere T90 ist dann wohl auch die einzige stationäre Wilesco-Dampfmaschine, welche ohne Kamin gefertigt wurde. Zusätzlich befinden sich in der Grundplatte noch Bohrungen, in die später Polklemmen und ein Generator eingebaut werden konnten. Dieses war meiner Kenntnis nach aber nicht Lieferumfang von Wilesco.
------------------------------------
This very special T90 is probably the only stationary Wilesco steam engine that was manufactured without a chimney. In addition, there are holes in the base plate into which pole terminals and a generator could later be installed. As far as I know, this was not part of the Wilesco scope of delivery.