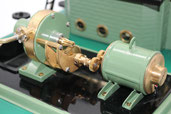 Es wurde Zeit für eine Turbine in meiner Manufaktur.
Time was right for an own turbine in my manufatcture.
Nachdem die T125 nach nur 260 gebauten Exemplaren eingestellt wurde, hat Wilesco nun keine Turbine mehr im Angebot. Und als ich dann ein Angebot online für eine Modell-Turbine fand, war klar was zu tun ist....
------------------------------------
After the T125 was discontinued after only 260 had been built, Wilesco no longer has a turbine on offer. And when I found an offer online for a model turbine, it was clear what to do....
So entstand aus Teilen einer D20 und ein bißchen selbst Gestaltetem ein neues Turbinen-Modell.
------------------------------------
So a new turbine model was created from parts of a D20 and a little bit of self-design.
Ich habe die Turbine mit dem anzutreibenden Generator auf einer Aggregateplatte einer D16 montiert. Der Ausschnitt der ehemaligen Kondenswasserschale dient wieder einmal zur Aufnahme der Pol-Klemmen.
------------------------------------
I mounted the turbine with the generator to be driven on an aggregate plate of a D16. The section of the former condensation water tray is once again used to accommodate the pole terminals.