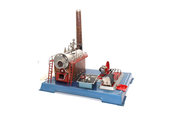 Ganz bei mir in der Nähe habe ich eine tolle D24el gefunden.
Just near by I found a very nice D24el.
Nicht weit entfernt von meinem Wohnort durfte ich Tom kennenlernen. Er hat Mitte der 197oer Jahre eine D24el inkl. einigem Zubehör bekommen. Welch glücklicher Junge damals und welch spendabler Vater! Sein Vater war damals der Meinung, dass eine elektrische Heizung an der Dampfmaschine mehr Sicherheit bieten würde. So wurde das schon damals deutlich teurere Modell ausgesucht. Und nun wollte Tom sich von dem Ganzen trennen und ich konnte natürlich nicht Nein sagen.
------------------------------------
Not far from where I live, I got to meet Tom. He got a D24el including some accessories in the mid-1970s. What a happy boy then and what a generous father! At the time, his father was of the opinion that electric heating on the steam engine would offer more safety. So the model, which was already significantly more expensive at the time, was selected. And now Tom wanted to part with the whole thing and of course I couldn't say no.
Offenbar wurde nicht sehr häufig mit dem guten Stück gespielt. Nach einer kleinen Reparatur und nur etwas Putzen erstrahlt die Maschine wieder in Ihrem ursprünglichen Glanz.
--------------------------------
Apparently the good piece was not played with very often. After a small repair and just a bit of cleaning, the machine shines again in its original glory.
Danke Tom, denn diese Variante hat mir in meiner Sammlung noch gefehlt!
------------------------
Thanks Tom, because I was missing this variant in my collection!