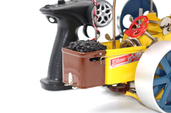 Ich habe eine elektronische Fernsteuerung für die Walze gebaut.
I built an electronic remote control for the roller. 
Da Wilesco seine elektronische Fernsteuerung eingestellt hat, habe ich mir mal Gedanken gemacht wie eine Alternative aussehen könnte.
------------------------------------
Since Wilesco has discontinued its electronic remote control, I thought about what an alternative could look like.
So habe ich aus dem Heck einer Walze einen Kohlekasten gebaut. Dieser dient als Aufnahme eines handelsübliche Empfänger und eines handelsüblichen Servo.
--------------------------------
So I built a charcoal box out of the rear of a roller. This serves to accommodate a standard receiver and a standard servo.
Die Spannungsversorgung habe ich unter dem Dach platziert. Die drei AAA-Batterien reichen völlig aus..
------------------------------------ 
I placed the power supply under the roof. Te three AAA batteries are sufficient.