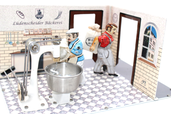 Mein Dampf-Freund Matthias wollte auch eine Bäckerei haben...
My stea-buddy Matthias wanted to have a backery...
Da ich Matthias leider etwas lange habe warten lassen, habe ich ihm eine ganz besondere Bäckerei gebaut. Diese ist nun etwas rößer auf Basis einer D16-Grundplatte!
------------------------------------
Unfortunately, I kept Matthias waiting for a long time, so I built him a very special bakery. This is now a little larger based on a D16 base plate!
In dieser Bäckerei rührt jetzt nicht nur der Meister den Teig an. Hier bringt ein weiterer Geselle auch das Mehl herbei!
--------------------------------
In this bakery, it's not just the master who mixes the dough. Here another journeyman also brings the flour!
Der Geselle läuft ständig raus und rein mit dem Mehlsack auf dem Rücken. Ich habe das durch eine zusätzliche Welle und einer entsprechenden Halterung für die Figur realisiert. Der Antrieb erfolgt unter der Grundplatte!.
------------------------------------ 
The journeyman keeps running in and out with the flour sack on his back. I realized this with an additional shaft and a corresponding mount for the figure. The drive is under the base plate!