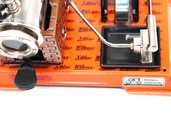 Ich habe eine ganz besondere D6 gebaut. Der Hintergrund dafür ist aus Pappe....
I built a very special D6. Background for that is made out of cardboard...
Über die Wilesco-Facebook-Seite wurde ich aufmerksam auf einen ganz besonderen Dampfmaschinen-Fan. Hier wurde ein kleiner Junge gezeigt, der sich Dampfmaschinen aus Pappe baut. Und das mit einer extrem beeindruckenden Kreativität. Das Bild links zeigt seine "D20" mit allen möglichen Details. Wahnsinn, was da geschaffen wurde!
------------------------------------
Via the Wilesco Facebook page, I became aware of a very special steam engine fan. Here a little boy was shown building steam engines out of cardboard. And with an extremely impressive creativity. The picture on the left shows his "D20" with all possible details. It's amazing what has been created!
Diese Begeisterung und Kreativität hat mich wirklich beeindruckt. Daher habe ich mir gedacht, dass dieser kleine Künstler doch eine richtige Dampfmaschine verdient hat. Nach Abstimmung mit seinen Eltern habe ich mit Niklas telefoniert und ihn so etwas kennengelernt. Nach dem gespräch war mir klar: ich baue ihm seine ganz eigene D6!
--------------------------------
I was really impressed by this enthusiasm and creativity. So I thought to myself that this little artist deserved a real steam engine after all. After consultation with his parents, I phoned Niklas and got to know him a little bit. After the conversation, it was clear to me: I'll build him his very own D6!
So ist dann eine D6 in spezieller Farbgebung entstanden. Über die Farbgebung hinaus hat die Grundplatte aber noch eine sehr individuelle Beschriftung bekommen. Inklusive dem Namen "Niklas" in Wilesco-Schriftart.
------------------------------------ 
This is how a D6 in a special color scheme was created. In addition to the coloring, the base plate has also been given a very individual lettering. Including the name "Niklas" in Wilesco font.
Und man mag es kaum glauben, aber Niklas hat mir seine "D20-Papp-Edition" als Dankeschön geschickt. Erst wollte ich das gar nicht annehmen. Wenn man das Modell vor sich stehen hat, dann wird einem umso mehr bewust, welche Leidenschaft darin steckt! Jetzt bin ich aber froh, dieses sehr besondere Modell in meine Sammlung zu integrieren!
------------------------------------ 
And it's hard to believe, but Niklas sent me his "D20 cardboard edition" as a thank you. At first I didn't want to accept it. When you have the model in front of you, you become even more aware of the passion that is in it! But now I'm happy to add this very special model to my collection!