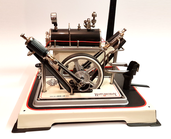 Man hatte mich gefragt, ob ich nicht eine 2-Zylinder-Maschine im Farbschema einer Harley-Davidson bauen kann! Klar, aber warum nur das Farb-Schema? Da geht mehr....
I was asked if I could build a 2-cylinder machine in the color scheme of a Harley-Davidson! Sure, but why only the color scheme? There is more to come...

Ein Dampffreund wollte für seinen Onkel ein ganz besonderes Geburtstagsgeschenk haben. Daher fraget er mich, ob ich ihm nicht eine 2-Zylinder auf Basis einer D20 bauen könne. Die Maschine müsse aber unbedingt das Farbschema der Harely des Onkels aufgreifen. Das sollte kein Problem sein...
--------------------------------
A steam friend wanted a very special birthday present for his uncle. So he asks me if I could build him a 2-cylinder based on a D20. The machine must, however, take up the color scheme of the uncle's Harely. That should not be a problem....
Ich dachte mir aber, dass da mehr Harley geht als "nur" das Farbschema. Und so wurde die Idee zu einer 2-Zylinder in V-Form geboren.
Und es war auch schnell klar, dass diese Maschine nicht durch den Kamin dampfen wird - sie bekommt Auspuffrohe.
------------------------------------
But I thought that there is more Harley possible than "just" the color scheme. And so the idea for a 2-cylinder in a V-shape was born.
And it quickly became clear that this machine would not steam through the chimney - it had exhaust pipes.

Und auch das Schwungrad wurde dem Harley-Stil entsprechend eingearbeitet und erinnert jetzt mehr an das Rad einer Harley- inklusive einer Schnurlaufrolle im Design einer Bremsscheibe.
------------------------------------ 
And the flywheel was also incorporated in the Harley style and is now more reminiscent of the wheel of a Harley - including a cord roller in the design of a brake disc.
Es war ausdrücklich die alte Dampfpfeife mit Gewicht gewünscht. Gewünscht - gemacht - allerdings hier mit einem etwas speziellerem Gewicht.
------------------------------------ 
The old steam pipe with weight was expressly requested. Desired - made - but here with a slightly more special weight.
Und für das Design der Aggregateplatte wurde es dann ganz speziell - mit personalisierten Schriftzügen (Name hier nur als Muster).
Als erstes hier das modifizierte Marken-Logo.
---------------------------------
And then it was very special for the design of the aggregate plate - with personalized lettering (name only as a sample here).
Als Nächstes kam dann das Tank-Logo an die Reihe: aus "Harley-Davidson" wurde "Happy-Birthday - natürlich im gleichen Design.
Und statt "USA" war ich so frei mein Logo zu platzieren.
---------------------------------
Next the tank logo: "Harley-Davidson" became "Happy Birthday" - in the same design, of course. And instead of "USA" I felt free to place my logo.
Und an einer solchen Maschine darf natürlich auch ein Nummernschild nicht fehlen. Natürlich mit der Beschriftung des Vorbildes (hier unkenntlich gemacht).
---------------------------------
And of course a license plate should not be missing on such a machine. Of course with the lettering of the prototype (made unrecognizable here).
Nachdem die üblichen Topföler irgendwie unpassend wirkten, habe ich eine neue Variante von Ölern angebracht - elegant, oder?
---------------------------------
After the usual pot oilers seemed somehow unsuitable, I added a new variant of oilers - elegant, isn't it?
Und zum Schluss hier das Gesamtbild mit dem passenden Farbschema. Ich denke, die ganzen kleinen Details machen diese Maschine mal wieder zu etwas ganz Besonderem! Es war eine Freude diese zu bauen! 
---------------------------------
And finally here is the overall picture with the matching color scheme. I think all the little details make this machine something very special again! It was a pleasure to build this one!