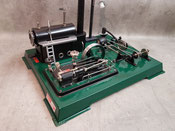 Ich konnte den D161-Prototypen aus dem Jahre 2019 bekommen!
I was able to get the 2019 prototype of the D161!
Auf der Spielwarenmesse in Nürnberg präsentierte Wilesco 2019 die neue D161 anhand der links abgebildeten Maschine.
------------------------------------
At the Toy Fair in Nuremberg in 2019, Wilesco presented the new D161 using the machine shown on the left.
Die in Nürnberg gezeigte Maschine war ein Handmuster, welches noch einige Unterschiede zum Serienmodell aufweist.
So war zum Beispiel die Grundplatte glänzend lackiert, während die Serienausführung matt pulverbeschichtet ist.
------------------------------
The machine shown in Nuremberg was a hand sample, which still shows some differences from the production model.
For example, the base plate was painted glossy, while the standard version is matt powder-coated.
Auch beim Kessel sehen wir den Unterschied im Lack: Prototyp mit glänzendem Kessel, Serienmodell mit matt lackiertem Kessel..
------------------------------
We also see the difference in the paint in the boiler: prototype with glossy boiler, production model with matt-coated Boiler.
Auch kleinere Details waren anders ausgeführt: die Befestigung der Rolle des Schmiedehammers ist erst in der Serie mit zwei Schrauben ausgeführt.
------------------------------
Even smaller details were different: the forging hammer roller is only fastened in series with two screws.
Kurios ist auch, dass der Prototyp den Kamin von der Länge einer D20 verbaut hatte. Dieser ist deutlich länger als der einer D16 in der Serie.
------------------------------
It is also strange that the prototype had built the chimney with the length of a D20. This is significantly longer than that of a D16 in the series.
Auf alle Fälle bin ich sehr stolz den Prototypen für meine Sammlung bekommen zu haben!
------------------------------
In any case, I am very proud to have received the prototype for my Collection!