Es gibt Modelle, welche wie Wilesco-Maschinen aussehen, aber nicht von Wilesco gebaut wurden. Bislang kannte man die alte Ausführung des Dampftraktors und die Dampfwalze in dieser Art.
------------------------------
The are models which look like Wilesco, but have not been produced by Wilesco. So far we know the old version of the traction engine and the roller made that way.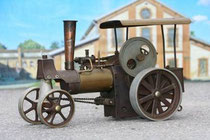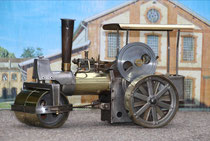 Der Hintergrund dieser Modelle ist der Folgende:
Die Firma Wilesco hat in den 1970-ern eine große Anzahl an Einzelteilen an einen anderen Händler verkauft. Dieser hat die Teile erst in Säure eingelegt, um die Oberfläche zu behandeln / zu entlacken und hat dann komplette Modelle daraus gemacht und verkauft. Allerdings wurden Wilesco-typische Teile wie der Griff des Dampf-Ventiles und die Brennerführung offensichtlich nicht mitgeliefert. Daher wurden hier andere Teile verbaut.
Somit sind das zwar Wilesco-Bauteile, nicht aber ein Wilesco-Produkt. Auch sind diese Modelle nie einer TÜV-Prüfung unterzogen worden.
------------------------------
Background of those models is the following: In the 1970s Wilesco has sold a large number of individual parts to another dealer. He put all the pieces into acid to treat the surface and to remove paint, completed the models and sold them as shown above. However Wilesco-typical components such as the handle of the steam valve and the burner slide were obviously not included. Therefore other parts were used.
So these are indeed Wilesco components, but not a Wilesco product. Also, these models have never been subjected to a technical inspection like the TÜV in germany, which is typical for Wilesco-products since the early 1970s.
Jetzt habe ich aber auch einen Dampftraktor der neueren Bauart (wie D407) in der gleichen Machart gefunden.
---------------------------------------
Now I found a traction engine in the new Wilesco-version (same as D407) made that way.
Auch dieses Modell hat keine Wilesco-Brennerführung und keine Einprägung "Made in Germany".
---------------------------------------
Same as models above this one doesn't have a Wilsco-typical burner-slide and no inprint "Made in Germany".
Auch die Ventil-Hebel sind nicht Wilesco-typisch, sondern nur kleine Metallstifte. Ebenfalls wie bei den beiden Modellen oben.
---------------------------------------
Also the handle of the steam valve is not Wilesco. This one is just a metal pin. even same as models above.
Ein weiterer Unterschied fällt bei dieser "D407" allerdings noch auf: an der Front fehlt auch die Einprägung "Wilesco Traktor" mit der angedeuteten Kesseltür.
---------------------------------------
On this "D407" one more difference to an original D407 can be found: it has no impressing on the front. Neither the "Wilesco Traktor" nor the implied opening door. 
Somit freue ich mich über ein weiteres seltenes Stück in meiner Sammlung. Und wenn auch nicht 100% von Wilesco hergestellt, so ist auch dieses Exemplar ein Stück Wilesco-Geschichte
---------------------------------------
With this addition I am happy about one more rare piece in my collection. Even not produced completely by Wilesco it is a kind of Wilesco-history.