Ich habe eine sehr alte D28 von meinem Dampf-Freund Frank bekommen können.
I got a very old D28 from my steam-buddy Frank.
Die D28 befand sich seit Beginn der Dampfmaschinen-Produktion bei Wilesco in deren Programm. Und eine der sehr frühen Ausführungen konnte ich nun bekommen.
---------------------------------
The D28 was in its program since the beginning of steam engine production at Wilesco. And one of the very early versions I was able to get now.
Die Maschine befindet sich in einem tollen Zustand, ist funktionsfähig und komplett.
---------------------------------
The machine is in a great condition, is functional and complete.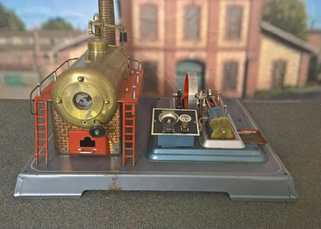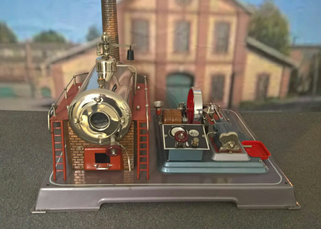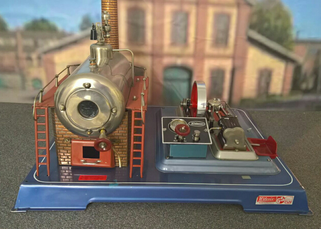 Diese alte D28 zusammen mit meinen anderen D28 erlaubt es mir nun die Unterschiede seit Beginn der Produktion aufzuzeigen. Das früheste Modell dürfte aus dem Zeitraum 1950 - 1955 stammen, die zweite Maschine aus der zweiten Hälfte der 1950-er/ Anfang 1960-er und das letzte Modell aus der Zeit nach 1979.
---------------------------------
This old D28 together with my other D28 allows me to show the differences since the beginning of the production. The earliest model is from 1950 to 1955, the second from the second half of the 1950s / beginning 1960s and the last from the period after 1979.
Am Bedienpult lassen sich einige Unterschiede erkennen. Bei der ältesten Ausführung gibt es ein Manometer mit vernickeltem Gehäuse. Darüber hinaus noch die älteste Ausführung des Wilesco-Logos mit zwei gleich dicken Ringen und schwarzem Hintergrund im Inneren.
---------------------------------
The control panel shows some differences. In the oldest version, there is a manometer with a nickel-plated housing. In addition, the oldest version of the Wilesco logo with two equally thick rings and black background inside.
Bei der zweiten Maschine hat das gleiche Manometer dann ein schwarz lackiertes Gehäuse. Zudem kommt dann noch die zweite Generation des Wilesco-Logos mit silbernem Hintergrund, nur einem Ring und schwarzem Schriftzug.
---------------------------------
In the case of the second machine, the same manometer has a black lacquered housing. In addition, the second generation of the Wilesco logo comes with a silver background, only one ring and black lettering.
Bei der modernsten D28 sehen wir dann das halb-ovale Manometer und den bekannten ovalen Wilesco-Schriftzug.
---------------------------------
In the most modern D28, we see the semi-oval manometer and the well-known oval Wilesco lettering.
Der Fliehkraftregler bei den alten Modellen war noch deutlich massiver ausgeführt. Zusätzlich hatten die Gewichte eine andere Geometrie und waren aus Aluminium gefertigt.  
---------------------------------
The centrifugal regulator for the old models was even more massive. In addition, the weights had a different geometry and were made of aluminum.
Auch bei der Klappe am Kesselhaus lässt sich ein Unterschied erkennen. Während spätere Maschinen einen rechteckigen Ausschnitt haben, hat die erste Serie noch zusätzlich eine halb-runde Kontur oberhalb des rechteckigen Ausschnittes.  
---------------------------------
There is also a difference in the flap at the boiler house. While later machines have a rectangular cutout, the first series also has a semi-circular contour above the rectangular cutout.
Den nächsten Unterschied findet man an den Stützen des Handlaufes. Diese sind bei der frühesten Variante oben abgeflacht, während spätere Modelle eine komplett runde Kontur aufweisen. 
---------------------------------
The next difference is found on the supports of the handrail. These are flattened at the earliest on top, while later models have a completely round contour.
Das Schild zur Spannungs- und Leistungsangabe wurde dann bei der letzten version geändert. Bei den frühen Ausführungen findet man Spannung und Watt übereinander, bei der letzten version nebeneinander.
---------------------------------
The sign for the voltage and power specification was changed with the last version. In the early versions one finds voltage and watts on top of each other, with the last version next to each other.
Vergleich man die Ecken der Grundplatten, so stellt man auch hier Unterschiede fest. Bei den Modellen seit Beginn der 1960-er hat sich lediglich die Farbe von Grau zu Blau geändert. Die Platte der ersten generation ist jedoch anders ausgeführt. Hier findet man an den Ecken von außen aufgebrachte Verstärkungen. Auch die Biege-Radien scheinen größer zu sein. 
---------------------------------
As the corners of the base plates are compared, differences are also found. For the models since the beginning of the 1960-er only the color changed from gray to blue. However, the b of the first generation is differently embodied. Here, reinforcements are applied at the corners from the outside. Also the bending radii seem to be larger.
Natürlich findet man auch Unterschiede beim Aggregat selbst. In der ersten Version ist die Abdeckung blau lackiert und alle Anbeuteile sind aus Messing. Dazu kommt eine rechteckige Kondenswasser-Schale aus Metall. 
---------------------------------
Of course you will also find differences in the unit itself. In the first version, the cover is painted blue and all parts are made of brass. In addition there is a rectangular condensation cup made of metal.
In der zweiten Ausführung ist die Abdeckung noch blau, alle Anbauteile und Leitungen sind jetzt aber vernickelt. Die Kondenswasser-Schale ist nach wie vor aus Metall, hat jetzt aber eine andere Geometrie.
---------------------------------
In the second version, the cover is still blue, but all attachments and pipings are now nickel-plated. The condensation shell is still made of metal, but now has a different geometry.
In der letzten Ausführung findet man dann die bekannte schwarz-lackierte Abdeckung in Verbindung mit dem für Wilesco typischen Plastik-Kondenswasser-Schale.
---------------------------------
In the last version you will find the well-known black-lacquered cover in combination with the typical plastic condensation tray for Wilesco.
Zu guter letzt noch die Dampfpfeife. Die erste Generation hatte noch eine Pfeife, welche sich in der Geometrie der Halbschalen unterschied. 
---------------------------------
Last but not least the steam w. The first generation still had a whistle, which differed in the geometry of the half-shells.
Die D28el wurde ca. 1981 aus dem Programm genommen. 
---------------------------------
The D28el was taken out of the program around 1981..