Ich habe es erst gar nicht glauben können, was ich da auf der facebook-Seite von Wilesco gesehen habe. Auf einmal erschien da das Logo meiner Website! Und das mit ein paar sehr schönen und wertschätzenden Kommentaren. Unglaublich!
---------------------------------------
When I visited Wilesco's facebook-site some days ago I could not believe what came up to my eyes: it was the logo of my website. Unbelievable! And on top of that some really nice comments recommending my page. WOW!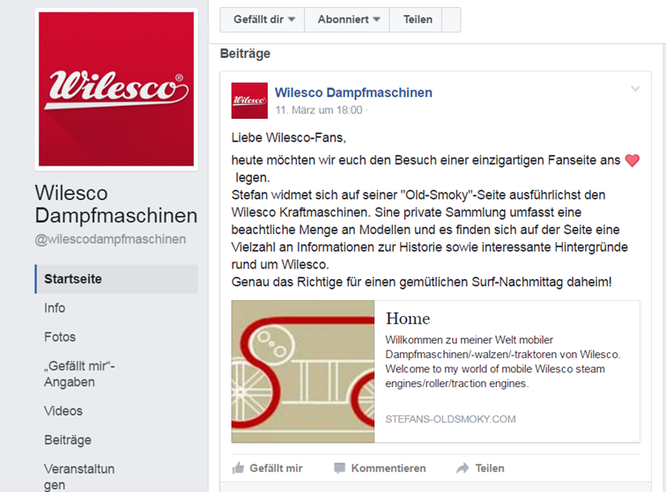 As the text is only available in german language here is the translation:
Dear Wilesco fans,
Today we would like to invite you to visit a unique fan site.
On his "Old-Smoky" side, Stefan devotes himself extensively to the Wilesco engines. His private collection includes a considerable amount of models and there is a lot of information on the history as well as interesting backgrounds around Wilesco.
Just the right thing for a cozy surfing afternoon at home!
Liebes Wilesco-Team: VIELEN DANK!
-----------------------------
Dear Wilesco: THANKS SO MUCH!