Endlich habe ich alle Versionen der Säge M60 zusammen.
Finally I got all versions of the saw M60 together.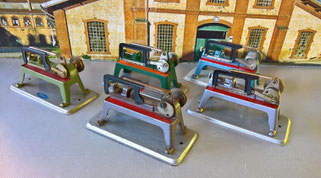 Meiner Recherche nach gab es von Wilesco bislang 5 verschiedene Ausführungen der Säge M60..
---------------------------------------
Up to my knowledge there have been 5 different versions of Wilesco's saw M60 so far.
Die erste Ausführung war in silber-grau auf silbernem Sockel ausgeführt.
-----------------------------
The first version was colored in silver-gray on a silver colored base.
Die zweite Ausführung unterschied sich farblich nur geringfügig. Allerdings gab es in der technischen Ausführung zwei Unterschiede.
-----------------------------
The second version showed only a little difference in color. But it had two technical differences.
Einer der Unterschiede ist die Befestigung der Säge auf der Bodenplatte: ist die erste Version noch geschraubt, wurde ab der zweiten Version genietet.
-----------------------------
One of those differences was the fixing of the saw on the base: where the first version shows nuts and bolts, this point is riveted from the second version on.
Gleiches gilt auch für die Befestigung des Antriebes am Gehäuse: bei der ersten Version geschraubt, ab der zweiten genietet.
-----------------------------
Same is valid for the fixing of the drive to the housing: first version with nut and bolt, riveted from the second version on.
Die dritte version kam dann mit neuer Farbe daher: das Gestell der Säge war nun hellgrün lackiert. Technisch wurde aber nichts geändert.
-----------------------------
The third version came along with a new color-scheme: the body was painted light-green now. Technically no other changes.
Die vierte Version wurde farblich dann nochmal verändert: nun war das Gestell dunkelgrün und der Sägetisch in orange statt rot lackiert.
-----------------------------
With the fourth version the color-scheme changed again: the body was painted more or less dark-green and the former red-painted table became orange.
Neben der nochmaligen Farb-Variation gab es aber auch eine technische Änderung: die Form des Gestells wurde geändert und die Rundung am unteren Ende des Fußes ist entfallen.
-----------------------------
Beside the different color-scheme there is also one technical change: the form of the body was changed slightly. The radius on the lower end of each foot was deleted, 
Die aktuelle Version (2017) der Säge ist nun in metallic-blau mit rotem Sägetisch ausgeführt. Darüber hinaus wurde auch der Sägetisch wieder rot ausgeführt. Die Bodenplatte ist in dem aktuell bekannten hellgrau lackiert.
-----------------------------
The current version (2017) is painted in metallic-blue, red table and a light-grey base.