Gestern war ich auf der Spielwarenmesse in Nürnberg.
-----------------------------------------------
Yesterday I visited the toy fai in Nürnberg.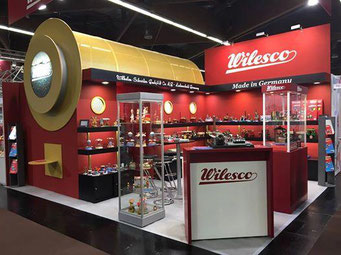 Wilesco war wieder mit dem bekannten Messestand mit integriertem Dampfkessel vertreten. Und im Vordergrund erkennt man bereits die Neuheit 2017: eine neue D32...
-----------------------------------------------
Wilesco was represented once more by their impressive booth including their own boiler. In front of the picture you can already see the latest news: a new version of the D32....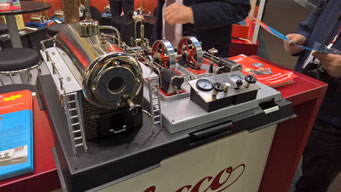 Wilesco zeigte den ersten Prototypen der neuen D32. Wie schon damals das Original ist auch die neue Ausführung sehr eindrucksvoll. Es gibt aber noch einiges zu tun...
-----------------------------------------------
Wilesco showed the first prototype of the new D32. Same as the original also the new version appears very impressive. But still much work to be done in detail...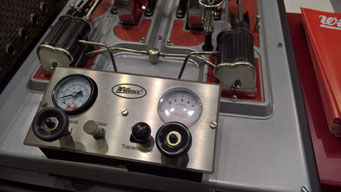 So ist z.B. der verbaute "Drehzahlmesser" noch ein Platzhalter ohne jegliche Funktion.
-----------------------------------------------
For example the "speedometer" currently is just a placeholder without any function.
Nachdem es aber in einigen Netzwerken bereits Diskussionen zu der neuen Maschine gibt, hat Wilesco noch ein paar weitere Infos herausgegeben. Diese geben Aufschluß über evtl. noch kommende Änderungen und eine Erklärung für den tw. als zu hoch kritisierten Preis (UVP 2300€).
---------------------------------------------------------------
After some discussions in one or the other network Wilesco published some additional information. By looking at that you will get an idea what will be changed till introduction andWilesco also tries to explain the prices (UVP 2300€), which was one of the biggest discussion-points.
Wilesco-Info:
Die neue D32 - mehr Infos
Liebe Wilesco-Fans,
seit wir die D32 hier als Neuheit für 2017 präsentiert haben, gab es eine Menge Reaktionen. Die gesamte Bandbreite war vertreten.
Wir haben die Reaktionen teils mit Verwunderung wahrgenommen und möchten daher die Gelegenheit nutzen, Euch hier noch weitere Infos zur D32 zu geben:
Die D32 ist derzeit noch ein Prototyp und wird noch verändert.
Aktuell erwägen wir beispielsweise Änderungen am Fliehkraftregler. Eventuell wird ein anderer Fliehkraftregler Verwendung finden. 
Auch die Speisewasserpumpe wird noch einmal überarbeitet werden.
Viele Fragen erreichten uns auch zum Thema Drehzahlmessung. Hier war die Schwierigkeit, eine gangbare Lösung zu finden. denn da es keine mechanischen Anzeigen mehr gibt, ist eine mechanische Messung über den Fliehkraftregler leider nicht mehr möglich.
Daher haben wir uns überlegt, die Drehzahl über das Schwungrad digital zu messen und dann auf der Anzeige im Steuerpult anzuzeigen.
Beim verbauten Generator handelt es sich übrigens um den Generator aus der Dampfturbine T125, er liefert 9-12V.
Die Transmission wird mechanisch gekuppelt.
Ein weiteres "heißes Eisen" war das Thema Preis. 
Hier möchten wir folgendes zu bedenken geben:

✔️ Die Heizung ist eine komplette Neuentwicklung

✔️ Der Kessel wird speziell isoliert, so dass das Kesselgehäuse nicht mehr so heiß wird

✔️ Der Kesselinhalt ist mit 1Liter größer als der Inhalt der anderen Dampfmaschinenmodelle, daher hinkt auch ein Vergleich mit der D24

✔️ Das Steuerpult musste komplett neu konstruiert werden,
ebenso die Drehzahlmessung

✔️ Da die Aggregate einzeln sind, müssen sie speziell für die D32 spiegelverkehrt gebaut werden.

✔️ Diese Maschine hat die Leistung, das gesamte Sortiment an Antriebsmodellen zu betreiben.

✔️ Der Generator ist hochwertig.

✔️ Das Brauchwasser wird zentral gesammelt. 

✔️ Die Neuauflage der D32 wird in einer hochwertigen Holzkiste geliefert, die es bei der alten Version nicht gab.

✔️ Die Maschine wird elektrisch betrieben und verfügt über ein TÜV-Siegel

✔️ Die D32 ist komplett Handmade in Germany
Wilesco-Info: 

The new D32 - more info 

Dear Wilesco fans, 
Since we presented the D32 here as a novelty for 2017, there were a lot of reactions. The entire range was represented. 
We have seen the reactions partly with amazement and would therefore like to take the opportunity to give you more information about the D32: 

The D32 is currently still a prototype and is still being modified. 
We are currently considering, for example, changes to the centrifugal governor. A different centrifugal governor may be used. 
The feedwater pump will also be reworked. 
Many questions were also addressed to the topic of speed measurement. Here was the difficulty of finding a viable solution. Because there are no mechanical indicators, a mechanical measurement via the centrifugal controller is unfortunately no longer possible. 
Therefore, we have thought about measuring the speed over the flywheel digitally and then displaying it on the display in the control panel. 
The built-in generator is also the generator from the T125 steam turbine, it delivers 9-12V. 
The transmission is mechanically coupled. 

Another "hot iron" was the topic price. 
Here we would like to consider the following: 
✔️ The heating system is a complete new development 
✔️ The boiler is specially insulated, so that the boiler housing is no longer so hot 
✔️ The boiler capacity is 1Liter larger than the content of the other steam engine models, therefore also a comparison with the D24 lags 
✔️ The control panel had to be completely redesigned, 
As is the speed measurement 
✔️ Because the units are individual, they have to be specially designed for the D32 mirror-mounted. 
✔️ This machine has the power to operate the entire range of drive models. 
✔️ The generator is high-quality. 
✔️ The hot water is collected centrally. 
✔️ The new edition of the D32 is delivered in a high-quality wooden box which was not available in the old version. 
✔️ The machine is operated electrically and has a TÜV seal 
✔️ The D32 is handmade in Germany