Durch Zufall habe ich eine bislang unbekannt Version der Presse M59 gefunden..
Just by accident I found an unknown version of the press M59.
Das Modell M59 stellt ein Exzenterpresse dar. Hierbei wird die Drehbewegung des Schwungrades über einen Exzenter in eine lineare Bewegung umgesetzt. Somit war es möglich unter Ausnutzung der Dampfkraft Blechteile oder ähnliches zu bearbeiten. Das Modell ist in der Lage dünnes Papier zu stanzen. Die Presse wurde irgendwann vor 1969 in das Wilesco-Programm aufgenommen.
------------------------------------------- 
The model M59 represents an eccentric press. Here the rotational movement of the flywheel is convertedabout an eccentric in a linear movement . So it was possible by utilizing the steam power top work on metal parts or similar pieces. The model is capable to press wholes into thin paper. The press M59 was introduced into Wilesco-Programm before 1969.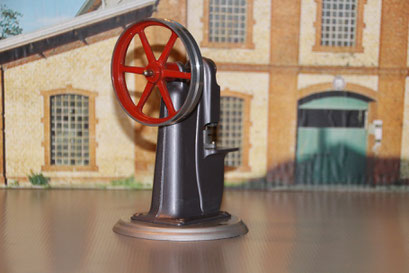 Die erste Ausführung der M59 Exzenterpresse hatte anstelle des heutigen grünen einen grauen Gusskörper und ein Schwung- bzw. Antriebsrad mit 6 statt 5 Speichen. 
------------------------------------------- 
The first version of the M59 Eccentric had a gray cast iron body instead of green and a flywheel having 6 spokes instead of 5 in the later version.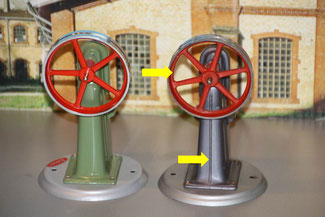 Es ist aber nicht ur das Antriebsrad unterschiedlich. Bei genauem Hinsehen stellt man fest, dass bei den heutigen (grün lackierten) Modellen der Grat an der Werkzeug-Trennfuge des Gießwerkzeuges verschliffen wurde. Bei der älteren (grau lackierten) Ausführung ist dieser Grat noch deutlich sichtbar.
------------------------------------------- 
However, it is not only for the drive wheel varies. On closer inspection, it is found that the ridge was sanded to the tool parting line of the die with today's (painted green) models. With the older (gray painted) execution of this ridge is still clearly visible.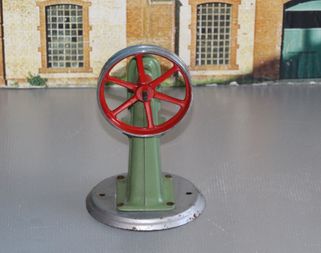 Nun habe ich aber eine Ausführung gefunden, welche so bislang nicht bekannt war: nicht verschliffene Gußform und 6-Speichen-Rad mit grüner Lackierung. Somit muss es sich hier um ein Modell handeln, welches im Übergang zur neueren Ausführung gefertigt worden ist (ca. 1973)
---------------------------------------
Now I found a version at least I did not know of: the old casting form, 6-spoke wheel and green painting. So this must be a version produced during the switch-over in around 1973.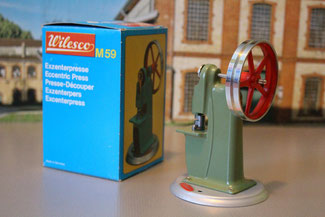 Die Abbildung links zeigt die Exzenterpresse in der noch heute verfügbaren Form mit grauer Bodenplatte und grünem Gusskörper. Diese Variante wurde ca. 1974 eingeführt und ist bis heute unverändert.
---------------------------------------------
The figure on the left shows the eccentric press in the available form today with gray base plate and green cast body. This variant was introduced arround 1974 and is still the current one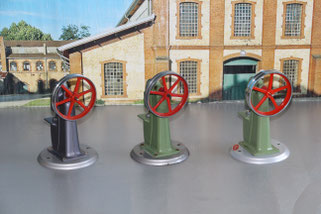 Somit ergeben sich nun drei verschiedene Varianten M59 seit der Einführung dieses Antriebsmodelles.
---------------------------------------
Knowing that we do have now three different versions of the excentric press M59 since its introdunction.
An der Rückseite und im Pressen-Mechanismus zeigen sich über die Jahre keine Unterschiede.
-----------------------------
From backside and concerning the press-mechanism there are no obvious differences over the years,