Wieder sind ein paar weitere Kataloge der Sammlung hinzugefügt.
---------------------------------------
Again some catalogs have been added to my collection.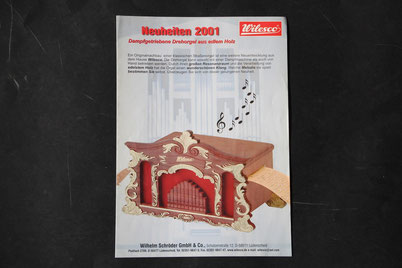 Das Neuheiten-Blatt 2001 ist aus Sicht der mobilen Dampfmaschinen von Wilesco durchaus interessant. Auch wenn auf der ersten Seite die neue Drehorgel gezeigt wird.
---------------------------------------
The News-Gazette 2001 is quite interesting from the perspective of mobile steam engines made by Wilesco. Although the new barrel organ is shown on the first page.
Auch auf den Seiten 2 und 3 erst einmal nur stationäre Neuigkeiten. Unter anderem die blau-weiße D16.
-----------------------------
Also on pages 2 and 3 so far only new stationary types. One of these is the D16 in blue/white color scheme.
Auf der letzten Seite dann die mobile Neuigkeit: die Dampfwalze D368 in schwarz/nickel. Wilesco beschreibt die D368 selbst als "Vitrinenschaustück".
------------------------------
On the last page finaly the mobile news: the steamroller D368 in black / nickel. Wilesco describes the D368 itself as a "showcase piece".
Desweiteren habe ich noch das Neuheitenblatt des Jahres 2005 bekommen können. Diese ist ein wahres Feuerwerk aus mobiler Sicht.
------------------------------
In addition I also got the newsletter out of 2005. This is a real fireworks from mobile perspective.
In 2005 erfolgt die Einführung von Elektronik an den Dampfwalzen: die elektronische Fernsteuerung ist verfügbar. Allerdings erst einmal nur für die Dampfwalzen.
Desweiteren ist die D16 nun wieder Kupfer-farben. Somit hat es die blau-weiße ausführung nur zwischen 2001 und 2004 gegeben.
------------------------------
In 2005, the introduction of electronics to steam rollers happens: the electronic remote control is available. However, once only for the roller.
Furthermore, the D16 is now back to copper colors. Thus, the blue and white version has only been available between 2001 and 2004.
Als weiteres mobiles Highlight wird die African Queen als limitiertes Modell D70 vorgestellt. Nur 1000Stück wurden produziert.
------------------------------
As another mobile highlight the African Queen is presented as limited model D70. Only 1000pcs were produced.
Nachdem die Neuheiten-Blätter originale Wilesco-Dokumente sind, habe ich noch einen Katalog eines englischen Spielwarenhändlers aus dem Jahre 1974 als Kopie bekommen können. Sehr schön gemacht, da zwei mobile Modelle auf der titelseite abgebildet sind.
------------------------------
After the News-sheets are original Wilesco documents, I also got a copy of  a catalog produced by an English Toy dealer out of 1974. Relay nice as two mobiles are shown on the title page.
Es wird das komplette Wilesco-Sortiment angeboten.
------------------------------
The whole Wilesco-portfolio is offered.
Interessant ist jedoch die Abbildung der Antriebsmodelle. Es werden sowohl graue als auch grüne Modelle parallel gezeigt. Kommen wir der terminierung der Farb-Umstellung damit näher?
------------------------------
ndInterestingly though, the illustration of the drive models. Showing parallel both gray a green models. Does this give us a hint about scheduling the changeover?
Das Datum auf der Preisliste gibt Gewissheit bezüglich Datierung.
------------------------------
The date on the price list is certainty regarding the date.