Meine Dürkopp-Dampfmaschine habe ich ja schon vor einiger Zeit präsentiert.Jetzt ist diese aber mit Gas-Brennern ausgerüstet und dampft richtig los...

---------------------------------------
My Dürkopp-steam engine I already presented some time ago. But now it was equipped with some gas-burner and it really makes a lot of fun...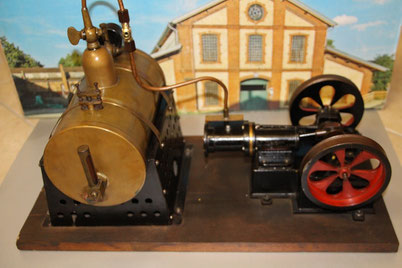 Im zweiten Produktions-Werk von Dürkopp in Künsebeck befand sich das Ausbildungszentrum. Hier bauten ein paar Auszubildende als Reifeprüfung im Jahre 1940 eine Dampfmaschine. Die Maschine hat jetzt für mehr als 70 Jahren in der Nähe von Bielefeld darauf gewartet entdeckt zu werden und ich war froh, diese gefunden zu haben. 
------------------------------
In Dürkopp's second plant in Künsebeck they had the education center. In this facility a few students built a steam engine in 1940 to pass their final class. The machine did rest now for more than 70 years close to Bielefeld and I was happy to find it. 
Die Maschine diente zur Demonstration der mechanischen Fertigkeiten der Auszubildenden. Es wurde mehr Augenmerk auf den Antrieb gelegt, als auf den Kessel bzw. die Beheizung. Zum Anheizen gibt es seitlich lediglich ein Loch, durch welches man z.B. einen Schweißbrenner unter den Kessel halten kann. Einen fest installierten Brenner hat es hier nie gegeben. 

Daher habe ich versucht einen Brenner zu installieren, ohne die Originalität der Maschine zu zerstören.
------------------------------
The machine was used to demonstrate the technical skills of the trainees. They focused more on the engine itself than on the boiler or even the burner. To heat up the boiler the only access is a more or less small whole on the side to put a torch under it. A fixed burner never existed here.
Therefore, I have tried to install a burner without destroying the originality of the machine.
Und hier ist das Ergebnis:
------------------------------
And here is the result: