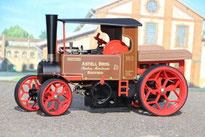 Bilder und Informationen zum Modell D310 Foden Mighty Atom
-----------------------------------
Photos and information about Foden Mighty Atom
Als Neuheit präsentiert Wilesco 2013 einen originalgetreuen Nachbau des Foden-Lkws "Mighty Atom".
Die erste Charge des Jahres 2014 war bereits Ende 2013 durch Vorbestellungen vergriffen.
--------------------------------
As one of the news 2013 Wilesco presented a model of the Foden-Truck called "Mighty Atom".
The first batch of 2014 was sold out by the end of 2013 pre-orders.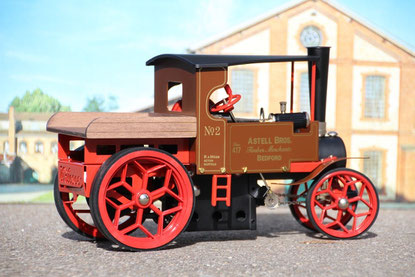 Die Zugmaschine mit der kurzen Holzpritsche und dem Führerhaus über dem liegenden Kessel ist über ein Lenkrad im Führerstand steuerbar. Gegenüber den bisherigen Modellen mit weitestgehend Bauteilen aus Guss oder Metall, verwendet Wilesco hier zum ersten mal Felgen aus Kunststoff.
--------------------------------
The tractor with the short wooden bed and the cab over the past boiler is controlled via a steering wheel in the cab. In contrast to previous models largely components made of cast or metal, Wilesco used here for the first time rims made of plastic.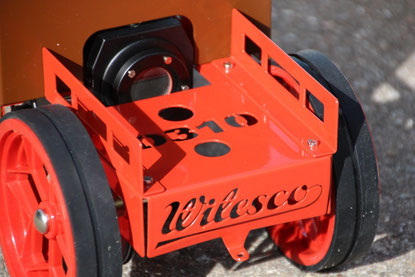 Das aus Blech gefertigte Chassis ist mit Wilesco-Schriftzug und Typenbezeichnung versehen, welche offenbar im Laserschnitt-Verfahren hergestellt wurden. Eine Produktionstechnik, welche bei den bisherigen Modellen nicht angewendet wurde.
--------------------------------
The plinth plate is provided with Wilesco lettering and type designation, which appear to have been made in the laser cutting process. A production technology, which was not used in the previous models.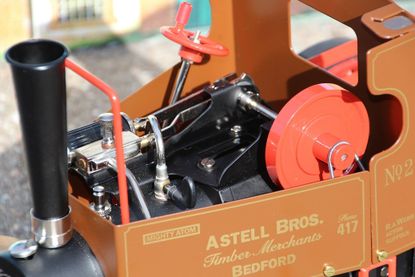 Als Antrieb des LKW dienen Bauteile des D405 Dampftraktors: Kesselhaus, Kessel, Zylinder, Koben, Dampfleitungen nur in schwarzer Farbgebung. Einzige Änderung ist die Verwendung eines kleineren Schwungrades.
--------------------------------
The technique of the truck is made out of components of D405 traction engine: boiler house, boiler, cylinder, piston, steam lines only in black color. The only change is to use a smaller flywheel.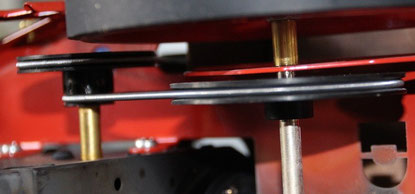 Der Antrieb erfolgt bei dem LKW über einen 2-fach untersetzten Riementrieb, welcher nur auf das in Fahrtrichtung linke Hinterrad wirkt. Hierfür werden die bekannten Wilesco-Spiralfedern verwendet. 
--------------------------------
The truck is driven by a 2-step gear, which powers the left side rear wheel. The well known wWilesco-coil-springs are used for transformation.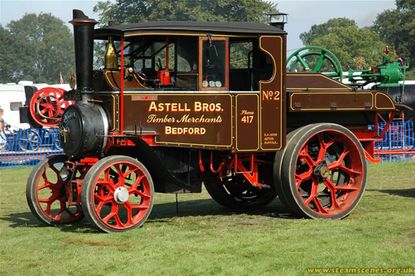 Das Vorbild des WIlesco D310 ist der links abgebildete LKW. Die Firma Foden baute von ca.1896 bis Ende der 1920-er Jahre LKW. Die Ära begann mit dem Ende des "Red Flag Act": war bis dahin die Geschwindigkeit von Fahrzeugen mit einer Gesamtmasse von mehr als 3to auf 12mph beschränkt, so fiel dieses Gesetz 1896  und der Markt für schnellfahrende LKW mit hoher Nutzlast (wie eben der Mighty Atom) war geöffnet. 
----------------------------------
The prototype of the Wilesco D310 is the truck shown at left. The company Foden built trucks from arround 1896 to late 1920's. The era began with the end of the "Red Flag Act": until then the speed of vehicles with a total mass of more than 3to was limited to 12mph. This law was skipped in 1896 and the market for fast moving trucks with heavy payload (as just the Mighty Atom) was opened.