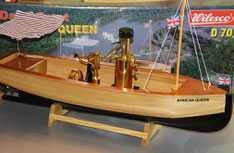 Nun gehört zu meiner Sammlung auch eine von 1000 Dampfschiffen namens "African Queen".
Für mehr Informationen einfach weiterlesen:
------------------------------------------
Now also one of 1000 ever build steam boats called "African Queen" belongs to my collection.
For more information just continue reading.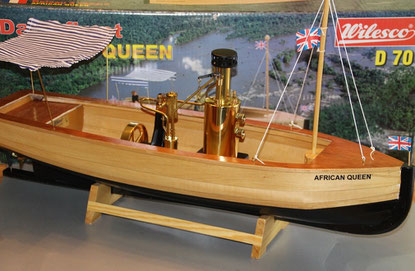 Das Dampfschiff D70 wurde 2006 von Wilesco eingeführt und war von Beginn an auf 1000 Stück limitiert. Das hübsche Modell trägt den Beinamen "African Queen", da es dem Boot in dem berühmten Film mit Kathrin Hepburn und Humphrey Bogart aus dem Jahre 1951 nachempfunden ist.
-------------------------------------------------------
The steamship Wilesco D70 was introduced in 2006 and was limited from the start t 1000 copies. The beautiful model is dubbed "the Queen Afrivcan" because it is modeled iaccording to the boat in the famous film with Kathrin Hepburn and Humphrey Bogart published in 1951.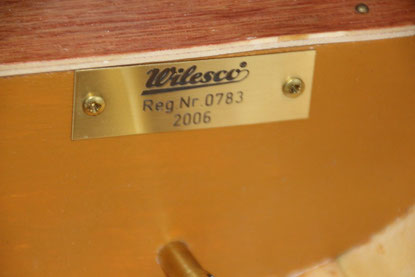 Jedes der 1000 Modelle wurde mit einer Plakette ausgestattet, welche die Nummer des Modelles aufzeigt. Meines ist die Nummer 783 von 1000.
-------------------------------------
Every model has a plate showing the registration number. Mine is number 783 out of 1000.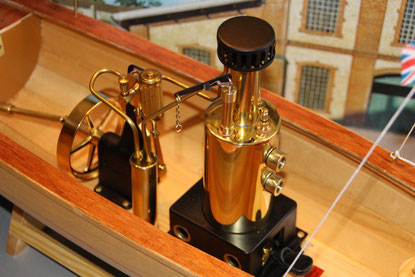 Als Antrieb wird wie üblich auf den Wilesco-Baukasten zurück gegriffen. Bei der African Queen wird der Kessel der D3 mit dem Aggregat der D455 kombiniert. Neu und sehr schön gemacht ist aber der Kondenswaaer-Behälter. Dieser ist ei röhrenförmiger behälter mit zwei Öffnungen an der Oberseite. Durch die eine wird das Kondenswasser vom Aggergat zugeführt. In die andere Öffnung wird ein Schornstein einegführt, welcher den Dampf am Schornstein entlässt. 
-------------------------------------
The drive is as usual resorted back to the Wilesco kit. In the African Queen, the boiler of the D3 with the aggregate of the D455 is combined. But made new and very nice is the condensation tank. This is a tubular container having two openings at the top. Through which a condensed water is supplied from the Aggergat. In the other opening a chimney is introduced, which releases the steam at the chimney.