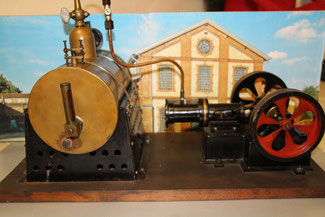 Die Maschine wurde im Jahre 1940 von Auszubildenden der Dürkopp-Werke in Bielefeld in Handarbeit hergestellt. Dieses beweist eine Einprägung "Ausbildung Künsebeck" auf der Bodenplatte. Die Ausbildungswerkstatt der Dürkopp-Werke befand sich im Zweigwerk in einem Ort Namens Künsebeck.-
-----------------------------------------------------------------------------------
The machine was made by hand in the year 1940 by students of the Dürkopp company in Bielefeld. This proves an impression "training Künsebeck" on the bottom plate. Dürkopp's training workshop was in second plant in a place called Künsebeck.
In der Nähe meiner Heimatstadt in Deutschland befindet sich die Firma Dürkopp-Adler. Heute sind sie berühmt für die Produktion von Nähmaschinen. Aber die Firma wurde bereits im Jahre 1867 gegründet und produzierte bereits damals Nähmaschinen in brillanter Qualität. Das Gebiet rund um Bielefeld in Deutschland war auch berühmt für die Herstellung von Fahrrädern und Motorräder. Deshalb ist es nicht verwunderlich, dass Dürkopp auch diese produzierte und sogar verschiedene Arten von Autos produzierte.
Im zweiten Produktions-Werk von Dürkopp in Künsebeck befand sich das Ausbildungszentrum. Hier bauten ein paar Auszubildende als Reifeprüfung im Jahre 1940 eine Dampfmaschine. Die Maschine hat jetzt für mehr als 70 Jahren in der Nähe von Bielefeld darauf gewartet entdeckt zu werden und ich war froh, diese gefunden zu haben. Und hier ist die Maschine in Aktion zu sehen:
----------------------------------------
Close to my hometown in germany a company called Dürkopp-Adler is located. Today they are famous for their sewing machines. The company was founded already in 1867 producing sewing machines in brilliant quality. The area arround Bielefeld in Germany was also famous for production of bicylces and motorcycles. Therefore it is not surprising that Dürkopp alsom produced them and also built several types of cars. 
In Dürkopp's second plant in Kümsebeck they had the education center. In this facility a few students built a steam engine in 1940 to pass their final class. The machine did rest now for more than 70 years close to Bielefeld and I was happy to fnid it. And here is the nice little thing out of Dürkopp's education center: