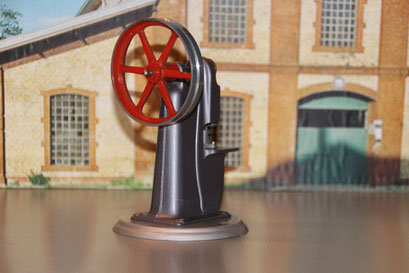 Die erste Ausführung der M59 Exzenterpresse hatte anstelle des grünen einen grauen Gusskörper und ein Schwung- bzw. Antriebsrad mit 6 statt 5 Speichen..
------------------------------------------- 
An older version of the M59 Eccentric had a gray cast iron body instead of green and a flywheel having 6 spokes instead of 5 in the later version..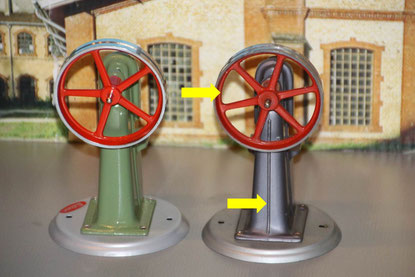 Es ist aber nicht ur das Antriebsrad unterschiedlich. Bei genauem Hinsehen stellt man fest, dass bei den heutigen (grün lackierten) Modellen der Grat an der Werkzeug-Trennfuge des Gießwerkzeuges verschliffen wurde. Bei der älteren (grau lackierten) Ausführung ist dieser Grat noch deutlich sichtbar.
------------------------------------------- 
However, it is not only for the drive wheel varies. On closer inspection, it is found that the ridge was sanded to the tool parting line of the die with today's (painted green) models. With the older (gray painted) execution of this ridge is still clearly visible.