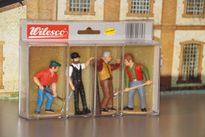 Nun  konnte ich meiner Sammlung auch die Figuren Z362 hinzufügen. Ich habe diese im Internet erstanden und gestern sind diese endlich angekommen.
Die Figuren befinden sich in absolut neuwertigem Zustand in noch versiegelter Originalverpackung.
--------------------------------------------
Now I could add the characters Z362 to my collection. I bought this on the internet and yesterday it finally arrived. The figures are in absolutely mint condition still in                                                original sealed packaging.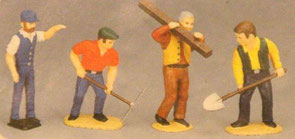 Das Set besteht aus einem Dampfwalzen-Fahrer, einem Arbeiter mit Schaufel, einem Arbeiter mit Spitzhacke und einem Arbeiter, welcher einen Balken trägt.
-------------------------------------------
The set contains a steam roller driver in darkblue clothinmgs, worker with spade with yellow shirt, worker with pickaxe in red shirt and a man with girder.
Die Figuren wurden seinerzeit handbemalt. Daher verwundert es auch nicht, dass es teilweise noch andere Farbgebungen gegeben hat.
----------------------------------------
The figures were handpainted at the time. Therefore it is not surprising that it has partially been available also in other color schemes.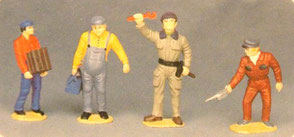 Die Strassenarbeiter waren aber nicht das einzige Set an Figuren. Parallel dazu hat Wilesco auch ein Set an Maschinen-Arbeitern angeboten. Dieses trug die Bezeichnung Z231.
-------------------------------------
However, the construction workers were not the only set of figures. In parallel, Wilesco has offered a set of machine-workers. This was called Z231.

Beide Sets wurden ungefähr zwischen 1994 und 2005 gefertigt. Allerdings nicht von Wilesco direkt. Hersteller der Figuren war die Firma Lehmann in Nürnberg.
-------------------------------------------------
Both sets were made approximately 1994-2005. However, not by Wilesco directly. Manufacturer of the figures was a company called Lehmann in Nuremberg.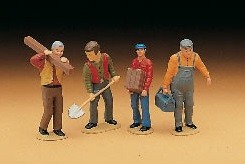 Und diese stellt die Figuren teilweise noch heute her. So findet man bei der Firma LGB als Zubehör für die Eisenbahnen der Spur G exakt die gleichen Figuren wieder. Allerdings eine Zusammenstellung von je zwei Figuren aus den verschiedenen Wilesco-Sets.
---------------------------------------
And it seems they still produce it today. The characters shown on the left are a set offered by the company LGB as accessorie for their model railway. It is obviously a combination of two characters out of each Wilesco-Set.